Top 10 Countries Query Red Yeast Rice Powder the Most in June,2017
Quality Herb's production process and quality are in the industry advanced level, its global product portfolio spans more than a hundred advanced products covering hyaluronic acid, horny goat weed extract, red yeast rice powder, white willow bark extract, kudzu root extract, white peony extract, resveratrol, bilberry extract, milk thistle extract, Sodium hyaluronate and Rhodiola Rosea Extract.

Today Quality Herb is going to give us some statistics about the top 10 countries query the keyword red yeast rice powder the most. Please see the form below: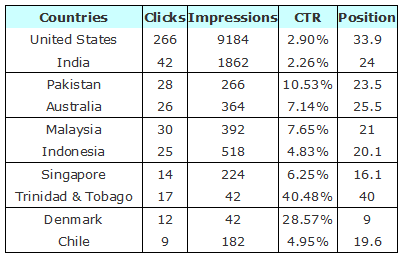 From above statistics, we can find that among the top 10 countries query Red Yeast Rice Powder the most, United States won the most Clicks and Impressions, and followed by India, Malaysia got the third clicks, while Indonesia got the third Impressions.

The best click through rate belonged to Trinidad & Tobago, which is more than 40%. Denmark also had a 28% CTR.

As for keywords, Red Yeast Rice Powder averagely ranked on 9 in Denmark, which is the highest ranking among them. And the keyword ranked good in Singapore and Chile as well.

Thus, maybe we should run more marketing promotion about Red Yeast Rice Powder on these top 10 countries, especially on United States , India and Denmark.