Horny Goat Weed Extract
Horny Goat Weed Extract, also named Epimedium Sagittatum Extract, is extracted from stem and leaves of horny hoat weed, also named epimedium. Icraiin is yellow brown powder,soluble in ethanol, ethyl acetate. Icraiin insoluble in water, and insoluble in ether, benzene,chloroform. Reaction with ferric chloride green, hydrochloric magnesium powder, epimedium extract icariin action was orange and red. Horny Goat Weed Extract has anti-aging, anti-tumor effects. It is used for promoting semen secretion, antibody formation, hematopoietic function, immune function and bone metabolism; preventing osteoporosis and hypertension; increasing the cardiovascular and cerebrovascular blood flow coronary, testosterone secretion and sperm production; and improving sexual performance and kidney deficiency.

Horny Goat Weed Extract icariin/flavonoids
Active ingredient: icarrin/epimedium flavonoids
Common names: Horny goat weed, barrenwort, yin yang huo
Botanical names: Epimedium brevicornum Maxim.;Epimedium sagittatum (Siebold. et Zucc.) Maxim., Epimedium koreanum Nakai.,Epimedium pubescens Maxim.,Epimedium sinense, Epimedium wushanense T.S.Ying.
Plant Part Used: Branches and Leaves.
Appearance: Brown Fine Powder
Extract Method: Grain Alcohol
Extract Solubility:Soluble in ethanol. soluble excelent in alcoholic drink.
Other name:Icariine; Icariln; Ieariline; Epimedium extract; Horny goat weed extract; 3-[(6-Deoxy-alpha-L-mannopyranosyl)oxy]-7-(beta-D-glucopyranosyloxy)-5-hydroxy-2-(4-methoxyphenyl)-8-(3-methyl-2-buten-1-yl)-4H-1-benzopyran-4-one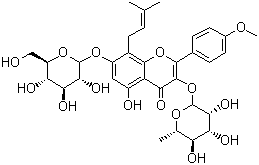 Molecular Formula:C33H40O15
Molecular Weight:676.65
CAS Number:489-32-7
Specification:
Horny Goat Weed Extract 5% Icarrin(HPLC)
Horny Goat Weed Extract 10% Icarrin(HPLC)
Horny Goat Weed Extract 20% Icarrin(HPLC)
Horny Goat Weed Extract 40% Icarrin(HPLC)
Horny Goat Weed Extract 10% flavonoids(UV)
Horny Goat Weed Extract 20% flavonoids(UV)
Horny Goat Weed Extract 30% flavonoids(UV)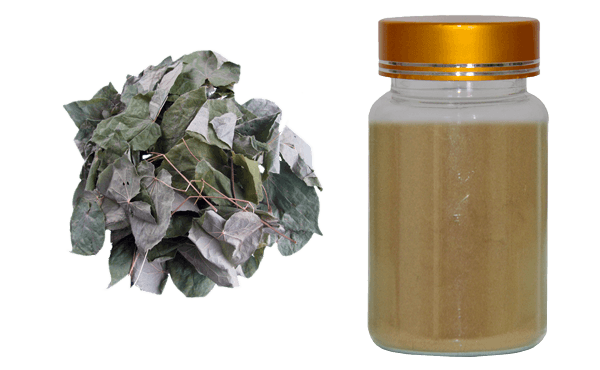 Functions:
- Improving the function of sexual gland, regulating the endocrine and stimulating sensory nerve;
- Strengthening the immune system and promoting vasodilation,with the function of removing blood stasis;
-Anti-aging, improving organism metabolism and organ function;
- Regulating cardiovascular, icariin and icaritin has significant anti-hypotension function;
- Owning anti-bacterial, anti-virus and anti-inflammatory effect.

Application:
- Stimulates sexual activity
- Increases sperm production
- Stimulates the sensory nerves
- Increases sexual desire

Sources:
Epimedium also known as barrenwort,bishop's hat,fairy wings,horny goat weed,rowdy lamp herb,randy beer grass oryin yang huo is a genus of flowering plants in the family Berberidaceae. There are about 50 species,the majority of which are endemic to China.
Epimedium species are deciduous or evergreen hardy perennials.The majority have four-parted" spider like "flowers in spring.The plant contains icariin,which is a PDE5 inhibitor like slidenafil,the active ingredient of Viagra.It id therefcore used as anaphrodisiac and a treatment for erectile dysfunction.

Storage:Store in a cool dry place, avoiding sunlight directly
Shelf life:2 years when properly stored.
Packing:Cardboard drum (25kg/drum), double plastic bag of foodstuff inside.