Top 10 Related Keywords of Red Yeast Rice Powder Jul.2017
Quality Herb is a GMP, ISO, Kosher, Halal certified company, specialized in manufacturing and supplying the most effective botanical ingredients for the pharmaceutical, health food, cosmetic, beverage industries. We provide hyaluronic acid, horny goat weed extract, red yeast rice powder, white willow bark extract, kudzu root extract, white peony extract, resveratrol, bilberry extract, milk thistle extract, sodium hyaluronate, rhodiola rosea Extract, etc.

As a professinal and qualified red yeast rice powder expert, we would like to share the top 10 related keywords of Red Yeast Rice Powder with you: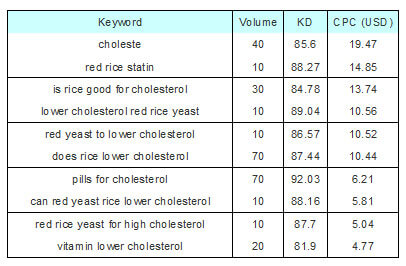 From the statistics above, we can see that most of them are very hard to optimize.

Although, all the keywords' search volumes are not too many, less than 100; most of them are with expensive CPCs, which are more than 10 USD, the difficulty of the 10 related keywords are very high, all of which are over 80% and some of them even higher than 90%.

Among the 10 related keywords of Red Yeast Rice Powder, I think the keyword 'does rice lower cholesterol' is the best keyword for search engine optimization. For it has the most search volume and relatively lower KD and cheaper AD price.