Kudzu Root Extract
Other name:kudzu root extract,Kudzuvine Root extract,pueraria lobata extract
Plant Origin: Pueraria lobata(Willd.)Ohwi .
Latin Name:Radix Puerariae
Appearance:Brown Fine Powder to White crystalline solid
Extracted part: Root
Specification:
Pueraria Isoflavones 40%~99% HPLC/UV
Puerarin 15%-99% HPLC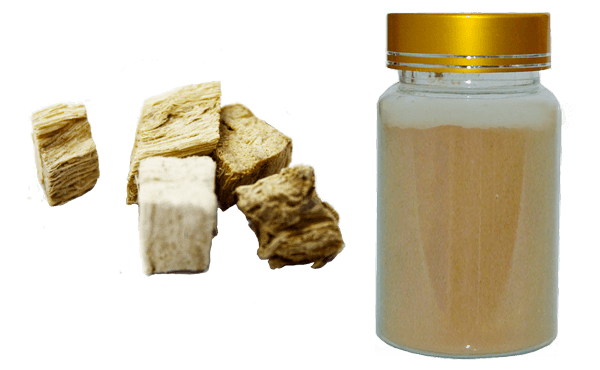 Active Ingredients:Puerarin,Pueraria Isoflavones (Radix Puerarin Flova), Daidzein, daidzin,Puerarin-xyloside,β-SitosteIrol,daidzein-4ˊ,7-diglucoside,4ˊ,6″-O- diacetylpuerarin,puerarin-7-xyloside,pueroside.....

Puerarin
Other name:8-(beta-D-Glucopyranosyl-7-hydroxy-3-(4-hydroxyphenyl)-4H-1-benzopyran-4-one
CAS NO.:3681-99-0
Molecular Formula:C21H20O9
Molecular Weight:416.38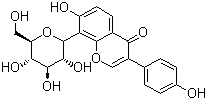 Daidzein
Other name:4',7-Dihydroxyisoflavone; 7-Hydroxy-3-(4-hydroxy-phenyl)-chromone; 7-Hydroxy-3-(4-hydroxy-phenyl)-4H-1-benzo-pyran-4-one
CAS.:486-66-8
Molecular Formula:C15H10O4
Molecular Weight:254.24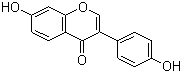 kudzu root flavone is a kind of isoflavone compound extracted from roots of wild kudzu, whose main ingredients are puerarin ,soybean isoflavone,daidzin and genistein,etc., its pharmacological action can improve microcirculation,dilate coronary artery, increase blood stream volume of brain and coronary artery, reduce heart rate,reduce index of myocardial oxygen consumption as to inproce the metabolism of ischemic myocarduum.it also has functions fo resisting thrombus,raising the high-density lipoprotein,resisting vasospasm, and reducing platelet aggregation, in clinic it is mainly used to treat diseases like alcoholism,arterial and venous embolism of retina,sudden deafness,myocardial infarct,coronary heart disease,angina pectoris hypertension and high blood fat, etc.
Main Function:
1.Releases the exterior, relaxes the muscles and clears Heat: Used to treat disorders causing muscles aching, stiff neck and upper back, fever, headache.
2.Nourishes the fluids and alleviates thirst: Used to treat wasting-thirsting and thirst due to Stomach Heat
3.Vents rashes: used in the early stages of rashes with dormant papules such as measles.
4.Treats diarrhea and dysentery from damp-heat.
5.treat symptoms of hypertension with headache, dizziness, tinnitus, and angina pectoris.
Usage:
1.As the crud drug for cardiovascular drugs, it is widely used in biopharmaceuticals;
2.With a unique effect for lipid-lowering, it is widely used to be added into foods and health products
3.With a unique effect of phytoestrogen ,it is widely used in cosmetics field to defer senility
Application:
1.As the crud drug for cardiovascular drugs, it is widely used in biopharmaceuticals;
2.With a unique effect for lipid-lowering, it is widely used to be added into foods and health products
3.With a unique effect of phytoestrogen ,it is widely used in cosmetics field to defer senility
Pharmacological Action:
Treatment of many ailments including phlebothrombosis, arterial obstructive disease and retina disease acute deafness, cardiac infarction, coronary heart disease, hypertension and hyperlipidemia